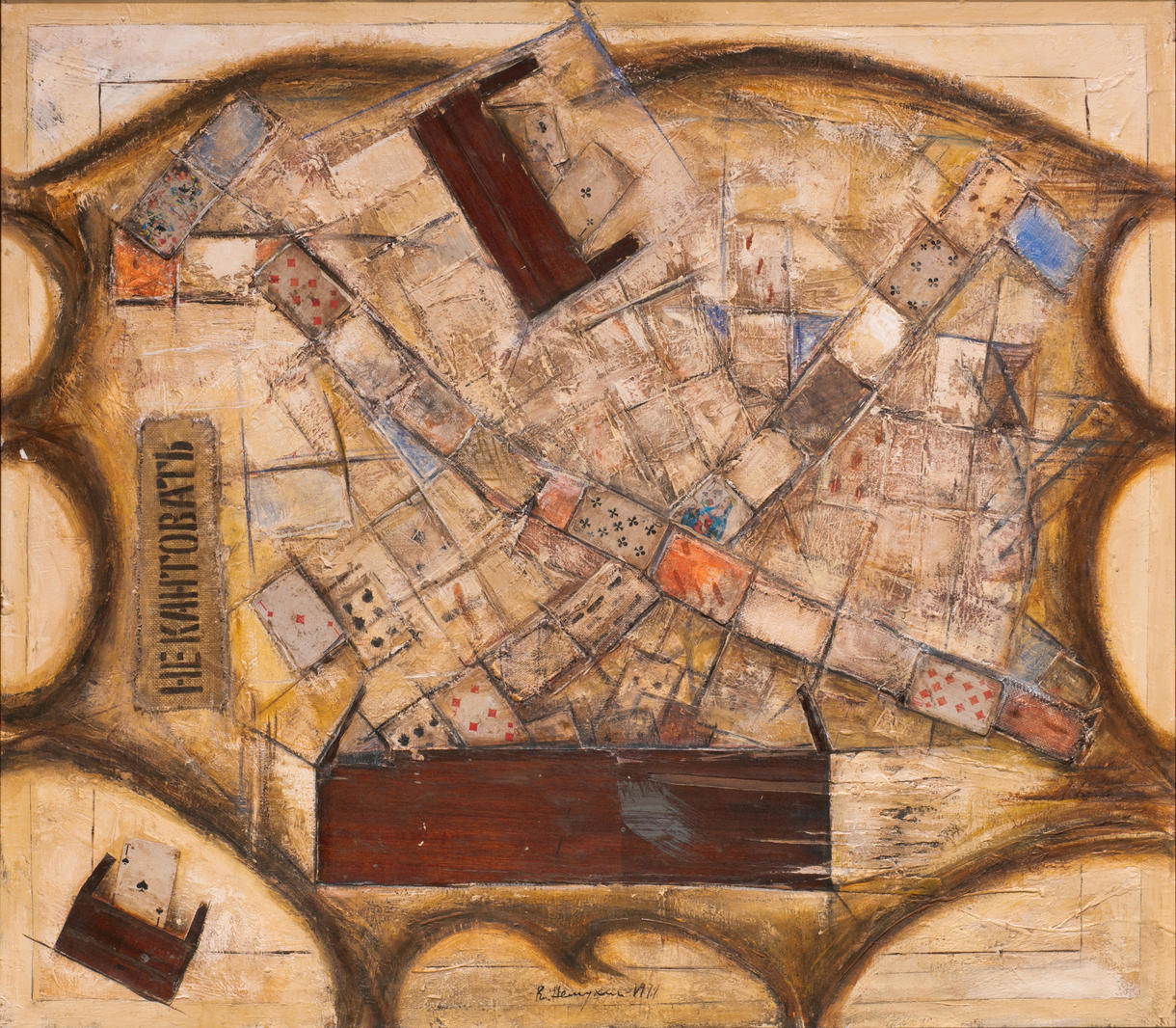 Vladimir Nemukhin one of the key figures of Soviet art underground. Starting from the 50's his devotion to abstract art has not only defined his future path but also becaume a form of opposition to Soviet system. Nemukhin defined himself as a representative of the "second Russian avant-garde", he meant his genetic linkage of his art with discoveries of Russian avant gardists of the beginning of the century. However his pathway of art searching equatable to development of abstract art on the West.
Special place in figurative world of Nemukhin is taken by playing cards. It appeared on his paintings at the middle of 60's for the first time. «I guess, at that period of my life I experienced situation that helped me to see a playing card as an art idea, not just a thing and realize its plastic nature and metaphysical substance», – the artist recalls. The first playing cards were painted as geometrical abstractions. Later, in the 70's, playing cards, not only painted by artist but also real started to form complex «solitaires» which stylistically and on compositional level refer to different styles of art of 20th century. All these works in fact are abstract because a playing card according to the artist's explanation - «is a symbol of terrestrial world with its distraction from human person, spontaneity and capricious instability of circumstance».
Vladimir Nemukhin artwork «Patience «Do not cant» of 1971 continues his famous cycle of artworks «Card Patiences» created at 60's. The composition of the painting is intentionally complex, the development of the action is taking part in different dimensions, and its combination creates mystic, supernatural atmosphere. Nemukhin combines real and painted cards on the canvas in this way he turns the surface of the canvas to realming point of real and depicted. All this underlined with template title «Do not cant» (earlier the boxes with fragile freight were marked this way) it seems like the space inside the painting, laying patience are flexible structures from "terrestrial world" and our actions are capable to harm them.
The cards are arranged on the inside of the skin of a certain six-legged animal – a reference to the mystical nature of the predictions. A frequent attribute of Nemukhin's pictures can be seen under it – a playing table. We see the composition front, but the surface of the picture is endowed with the illusion of volume from another angle: boxes in which both separate cards, as well as part of already spread out solitaire are put out of the table. The painting «Patience «Do not cant» leaves a feeling of mystery of what is happening, something that is beyond the will of the artist or the imagination of the viewer, and exists in a different dimension. V
Other lots in this auction