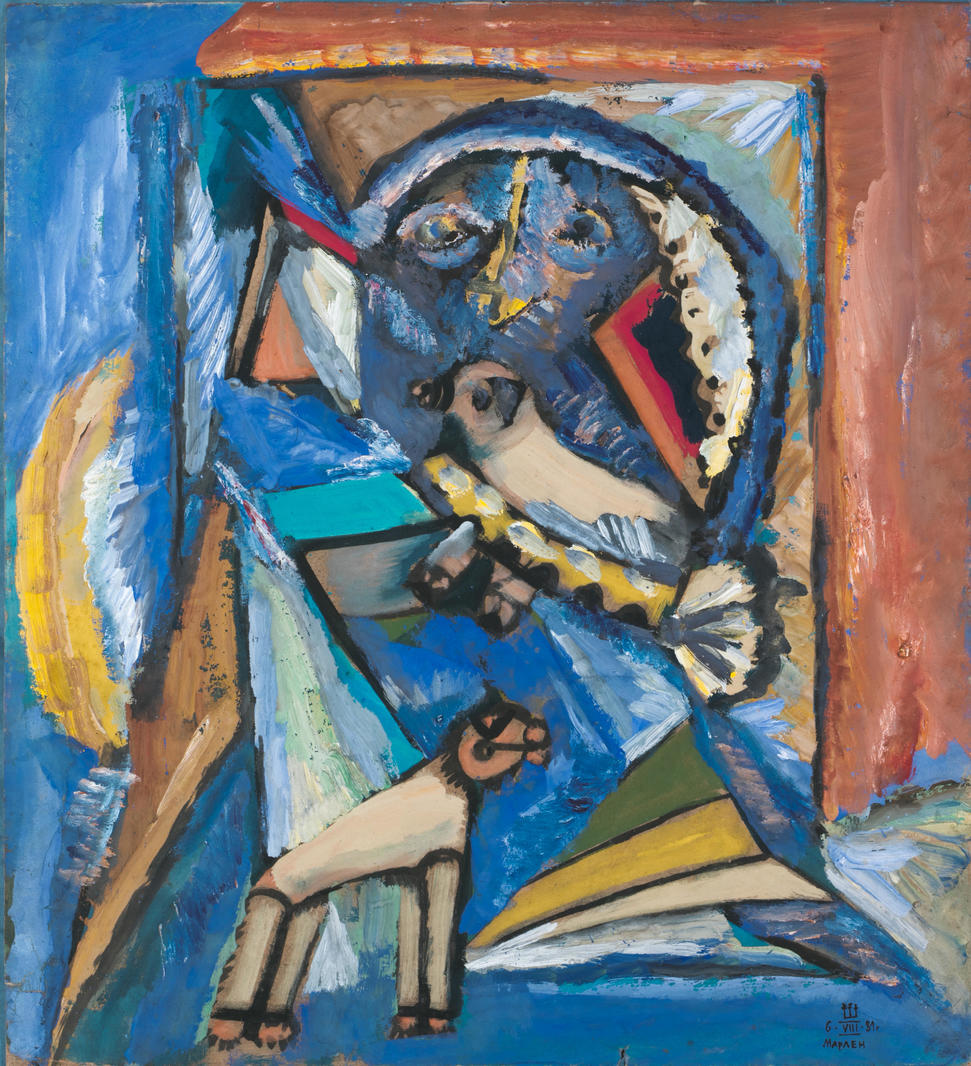 Marlen Spindler is a nonconformist artist whose works clearly show the influence of expressionism and primitivism. Creativity of the artist became widely known only in recent decades, after a retrospective exhibition at the Tretyakov Gallery in 1994. Spindler was born in Kyrgyzstan, spent his childhood traveling with his family through the republics of Central Asia. Among the artist's first bright impressions – the icons he saw in a village house near Alma-Ata. Out of children's hobbies important for his artistic biography – circus tricks, which his father taught him, who was in love with the circus. Christian symbolism, as well as images associated with the circus, will later find a multiple incarnation in the works by the artist.
In 1947, Marlen Spindler began to study at the art school under the «Mosfilm» studio, later in various art studios in Moscow: Alexander Kuprin, a former member of the «Jack of Diamonds» group, was among his mentors. In the late 50's, Spindler often participated in youth exhibitions, and in 1960 he settled down to work for the «Graphic Arts Combine» as a trademark artist, or, in modern terms, a graphic designer. In addition, he designed circus posters, one of them – the «Horse Circus» – was awarded the first prize at the All-Union competition. The work of the graphic designer also changed his picturesque manner, in which abstract and metaphysical features became increasingly apparent: totems, mysterious symbols and signs appeared on the canvas.
The death of his father, his divorce with his wife, ruined the artist's mental balance, he became addicted to alcohol. Spindler was repeatedly convicted, three times he got several years in prison for hooliganism and even crimes: he spent 15 years in the prison and the colonie in total. With such a biography there could be no talk about work by profession and any exhibitions, although he continued painting, even while in prison. The experience of penance austere influenced his experiments with materials: he liked to write on sackcloth, appreciating its rough texture, and under the influence of the frescoes of the Feropontov Monastery, which he often frequented, he himself prepared the colors in the old manner, kneading pigments frayed from stones on egg yolks. «Time is not lost, because I worked all the time. Hell was, hunger, cold. I worked all the time», – the artist recalled..
Marlen Spindler created the «Gipsy» painting in 1981 soon after going out of prison. This is one of his works on the gypsy theme, similar to works on the theme of the circus stylistically. In the painting, in addition to geometric figures, it is possible to distinguish a dog and a pig in a primitive, «folk» manner. The image of a gypsy is placed in the corner of the painting cut off by someone, it can be seen in general terms – a hood, eyes, a nose. The work was performed in an expressive manner of painting typical for many of Spindler's works, behind which stood the artist's firm belief that «when you paint, do not pay attention to something individually: get carried away with color, line, etc. Since this distracts from the main thing. From the general state, from the Supreme. To write all at once, then it will work». The majority of the painting is occupied by the blue-blue sky with a yellow half-moon on the edge, which almost merges with the gypsy, causing a romantic associative series: tabor – night – a fortune-teller – a mystery. The geometric figures and lines, adding the effect of crushing space, create a sense of whirlwind personal memories of the artist. The «Gypsy» painting probably expresses the state of artist's withdrawal into himself, in saving self-isolation from the outside world, which is quite explainable by the dramatic circumstances of Spindler's life. V
Other lots in this auction