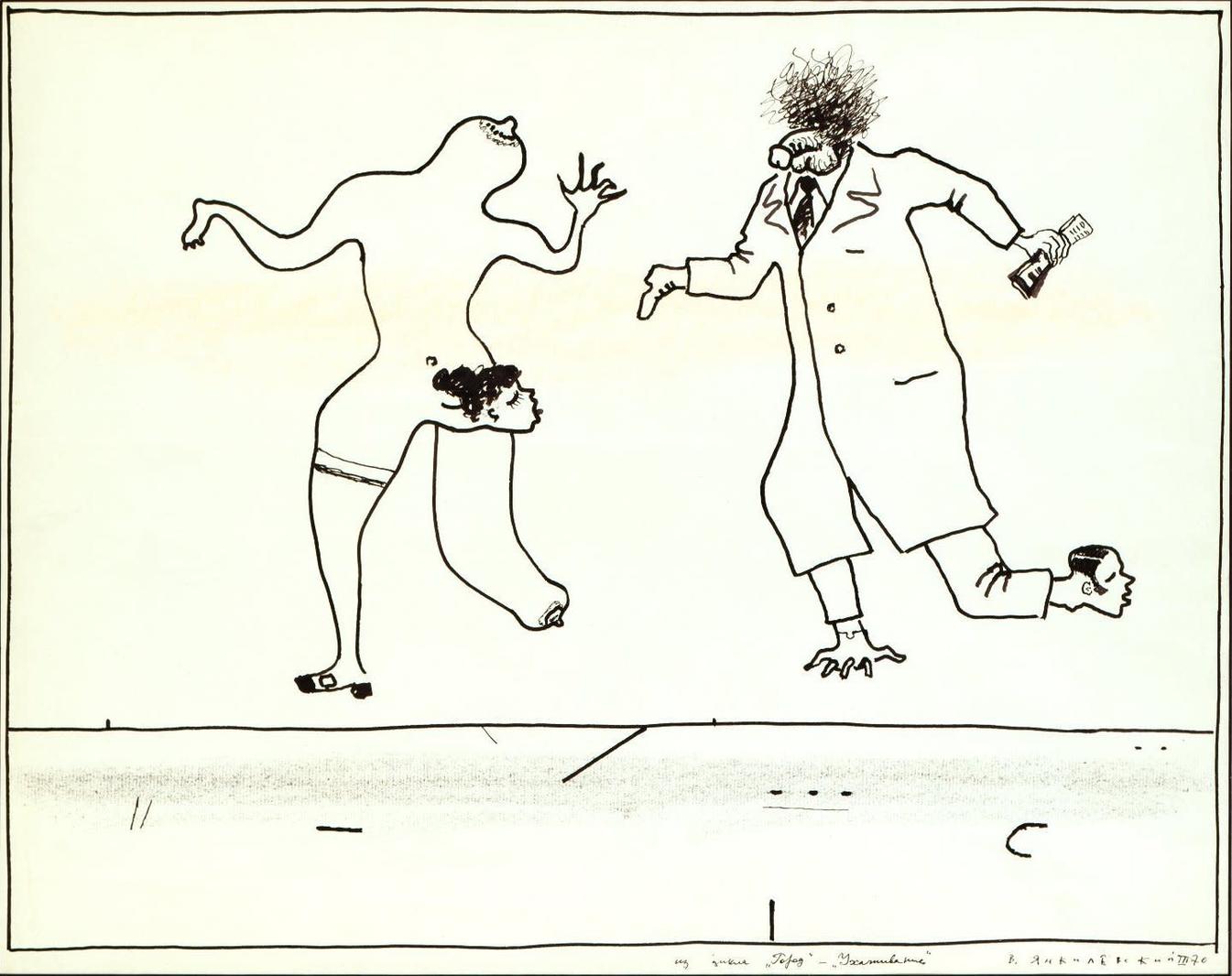 The ink drawing «Courtship» was created in 1970, when there was a turn to "biological themes" in the works by Yankilevsky. At the same time, since the late 1960's, during the period of the reactionary turn in cultural policy, the artist comes to the destruction of images – once integral, now they began to disintegrate.
The plot of the picture is simple: a man and a woman are depicted in the moment of «social interaction of bodies», and the name explains the sexual implication of what is happening.
Here, Yankilevsky's interest in creating surreal symbiotic images and mutants is manifested. Warped bodies, in which the heads change places with the sexual organs, and hands with legs, reflect the anatomical and spiritual fragmentation of human existence.
The «Courtship» continues the important for the artist theme of human being in the world. According to Yankilevsky, a person has two hypostases: an existential man and a social person, naked and clothed, inner and outer. One is not equal to another, but when they coincide, a person as a product of society, unreal and sick, becomes subject to psychic mutations. The warped and «dismantled» bodies of the heroes of the picture become their visual embodiment. The artist himself describes drawing as some kind of experience, deforming and transforming the everyday appearance of a person. Drawing from the inside, he removes the outer layers and reveals his inner life to us.
The picture belongs to the series «City - Masks», in which the artist's attention is also focused on the transformation of the human social body. If talking about the theme of the series «City - Masks»we can say that it is adjacent to other series of drawings and etchings: «Anatomy of the senses» and «Sodom and Gomorrah / Mutants». They were also created in the 1970's and are devoted to the experience of a person by himself and to the observation of mutations that occur with him in society. V
The subject of the picture is simple: a man and a woman are depicted in a moment of "social interaction of bodies". The "Courtship" continues a theme which is important to the artist: the theme of human beings and their two hypostases. According to Yankilevsky, a person has two hypostases: an existential man and a social person, naked and clothed, the inner person and the outer person. One is not equal to the other, but when they coincide, a person is like a product of society, unreal and sick, subject to psychic mutations. The heroes' mangled up and «dismantled» bodies become their visual embodiment, where heads swap places with the genitals, and hands trade places with feet. The artist himself describes drawing as some kind of experience, deforming and transforming the everyday appearance of a person. Drawing from the inside, he removes the outer layers and reveals his inner life to us. V
Other lots in this auction