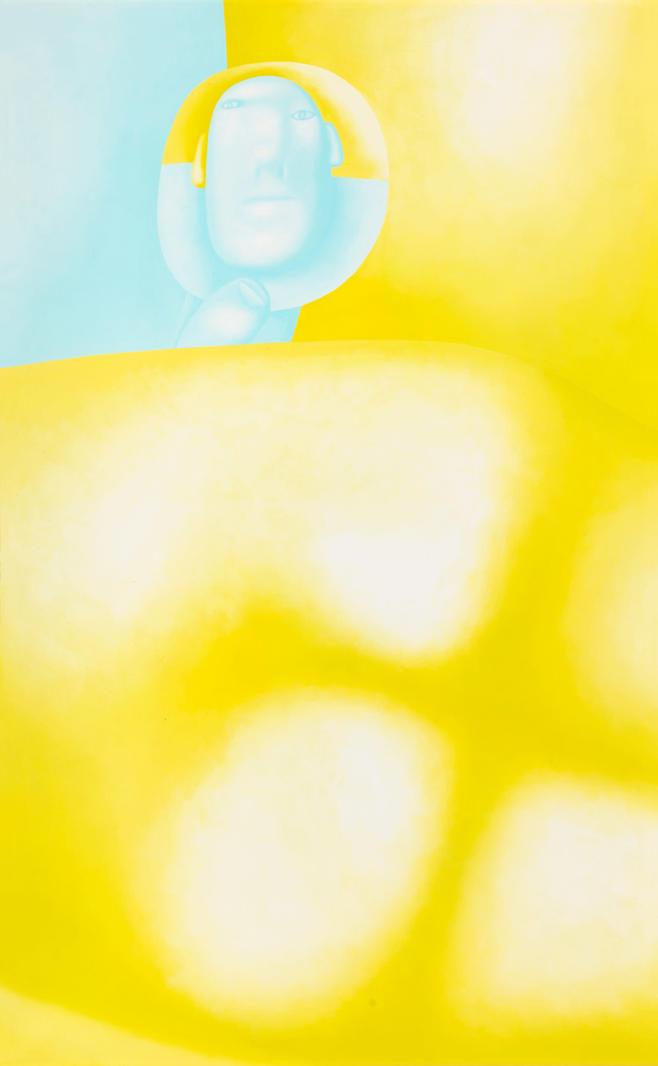 The legendary nonconformist Oleg Tselkov found his character in 1960, and this image does not leave his paintings ever since. The creatures with bald heads, narrow foreheads, eyes-slits and elephant-like bodies – «morda». According to the artist, for almost 60 years of creating this «unprecedented hitherto tribe», he could not understand who they were. Maybe this is the personification of some animal essence, which is hidden in us under the guise of a man.
The presented painting belongs to late, Paris period of Oleg Tselkov art. Formally the painting continues motif of classic naked painting and reminds the fragment of "Venice with a mirror" by Diego Velazquez. But Tselkov shows it in his own manner trying this plot with his own characters. Stocky proportions of "morda" doesn't fit to old masters canons of beauty: there is gigant body instead of idealized girl's figure. There is no element of posing or wish to fetch the audience because "morda" has no complex emotions or mentality, they are impudent but also natural like animals.
The artist works with general monumental forms and the same time composition is fragmentary: all we can see is wide back and reflection of the face in the mirror. There is a feeling that head is hanging in the air separately from the body. There are frozen characters with mirror in hands on Tselkov paintings since 1990. Mirror duplicates faces, gives new space solutions and also gives possibility to look at the world with the eyes of the characters.
Coloring is really important at Oleg Tselkov paintings. At the beginning of 1970s based on Rembrandt painting technique, Tselkov discovered his own painting system: applying a lot of paint layers, creating the thinnest glazing he achieves special depth of the colour. At the painting artist uses not more than 2-3 spectral colours, one of them is always main, often on the background and painted figures are drowned in it. In the presented painting Tselkov uses tensed colouring typical for his paintings made in 2000s. Yellow occupied almost the whole space and opposite to it blue accent at the top of the left part of the painting, colours are used in their lightest and brightest registers. And it seems inner bright light fulfil the painting. V
Other lots in this auction