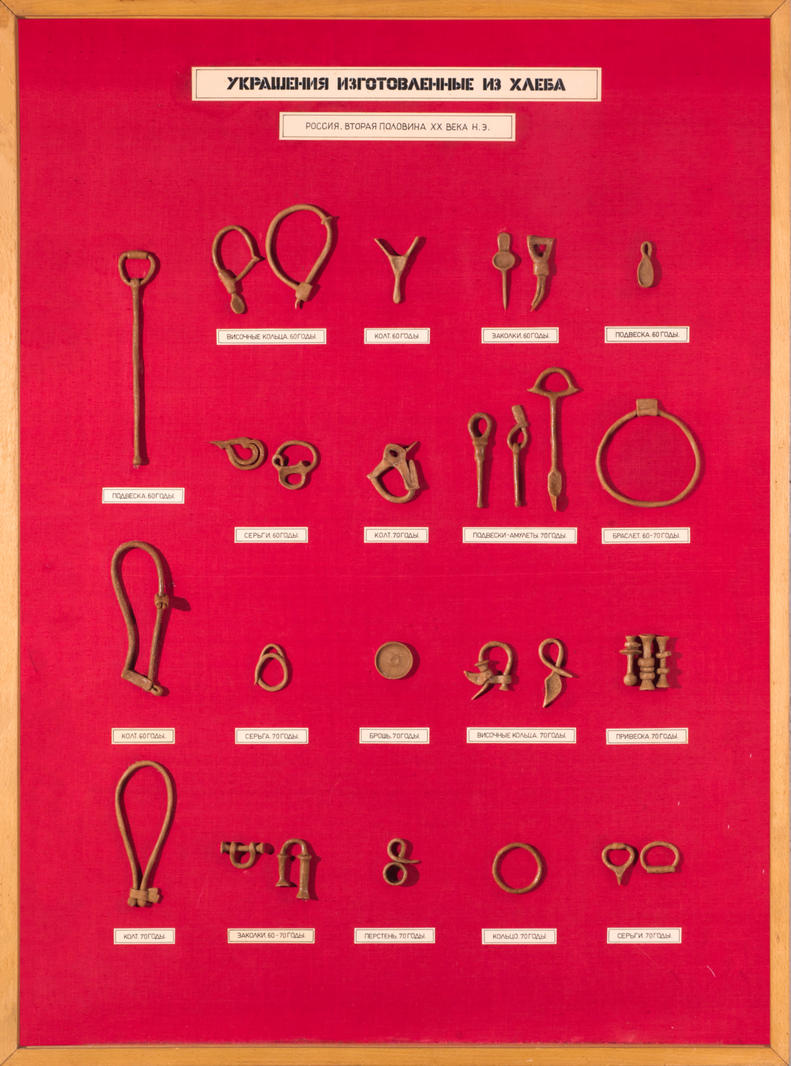 Rimma and Valeriy Gerlovin are veterans of the Moscow conceptualism. They have been living in USA for almost 40 years. Since 1970s they've created interactive objects and «environments» teamwise and separately, which were weaving with poetry, visual art, constructors and also joint performances. Thereat Rimma invented her famous blocks with short and sage considerations included. Meanwhile, Valeriy were developing the idea of simple natural elements. Due to this,the metal sculpture, works with soil and objects from bread appeared. Later on, they gave their whole art a collective name «The Сoncepts» and started to put their names to works together.
The temporal elaboration inThe «Decorations in bread.». Russia, the latter half of ХХ century.» hints that we are facing a «fake» in terms of a modern language. It's not because there couldn't be decorations in bread for objective reasons but therefore ?????
There is more well-favoured and fine term which is «обманка» or «тромплей». It has a long history since the times of the antiquity when painters and architects used optical effects to create illusions of objects, space and even alive creatures for an audience.
The modern art has a spacious approach and invents new interesting reminiscences based on classical scenes and methods. The «Decorations in bread» ,undoubtedly, reminds picturesque depictions of XVII – XIX centuries such as cabinets charged with various minute objects which artists, who imitates the reality, loved to create.
The art work «Decorations in bread» became a part of the series « The historic museums display items/ exhibits». Valeriy Gerlovin (the work was created by him) turned his childish habit intoan art. In former times, he had plenty of time to roll up a bread crump into jocular little fellows and after Valeriy had matured he realized that it was a great sculptural material in his hands. Thanktothat, suchartworksas«Коллекциянекурящего» (1976), «Хлебноедерево» (1978), «Хлебныенасекомые» (1979), «Хлебныепринадлежности» (1979-81), «Шахматы» (1980)came into the world. In the book «Concepts» the artists elucidate: «These decorations in bread presented the petrous oddments and remains of various life forms from jewelry, plants and insects to abstract configurations.
Simultaneously, therewasbornanideaofthemuseumimitationwheretheartworkswerepreservingalmostlike archaeological findsinaspecialglazeddisplaycabinet. On the one hand, The «Decorations in bread» was a provocation which were putting a spectator off his stride. It is not likely that anyone would guess that all these decorations were made from such makeshift material which is perfect for a clay imitation and even a copper. On the other hand, there is displayed what the hands of the artist are capable for and there is no need for something exotic to craft such an executive jewelry. All you need is bread. From the philosophical point of you, the artist discourse upon bread in a way of the firs element, its annual limitlessrevivals. The artist spreads bread possibilities to the endlessness even if it pertains to become the unique archeological finds… V
Other lots in this auction