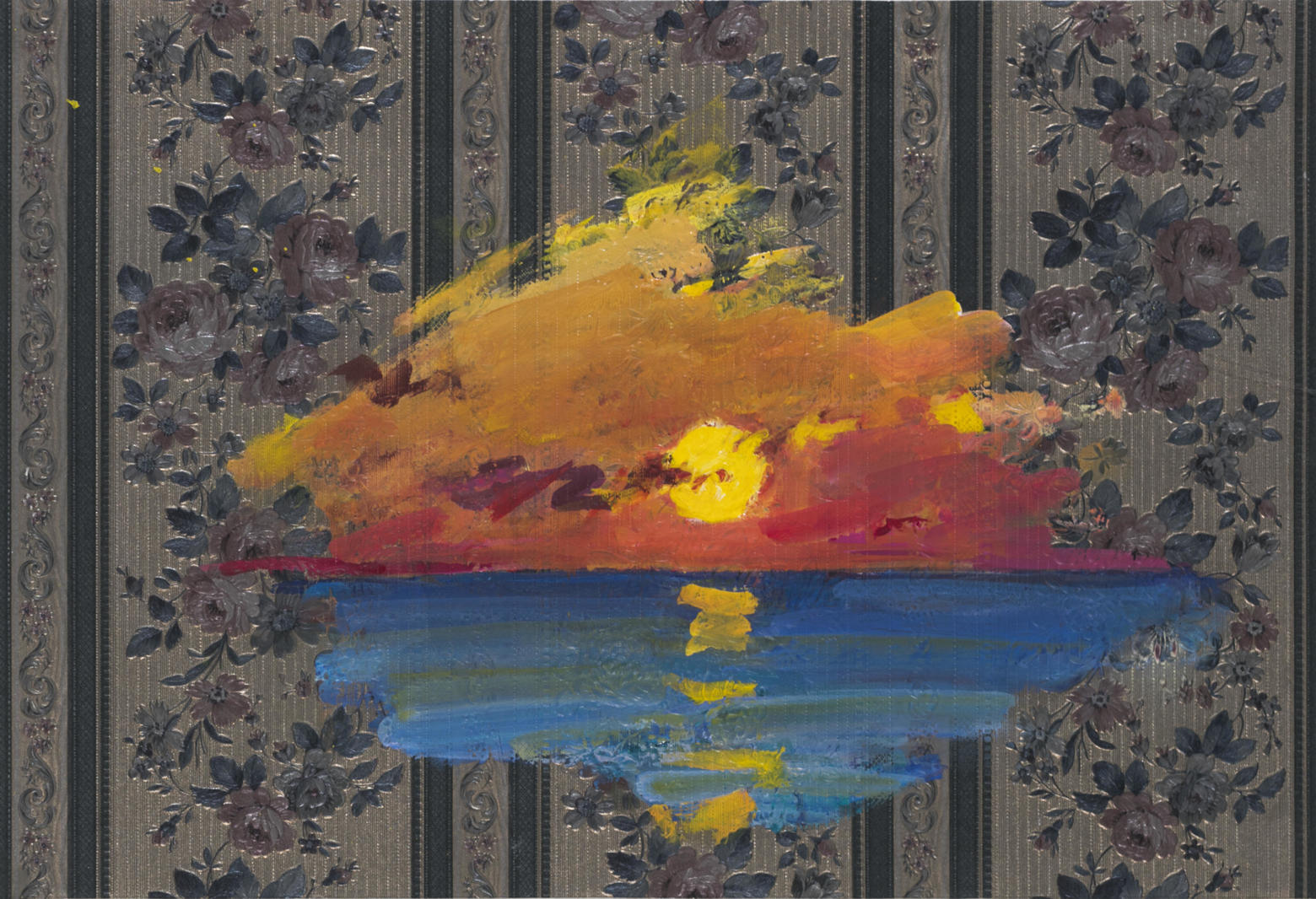 Landscapes by Ivan Chuikov have always behaved unpredictably. In his first «Window» 1967 the landscape doubled and appeared to be different in every half of the window. Since the 70's, he exfoliates from the window as a decal, sometimes climbing on the frame, sometimes standing sideways or squirming to a small spot.
Ivan Chuikov was one of the first in the history of Russian contemporary art to feel the need to change the angle of view and reformulate the picturesque heritage of modernism – which was not easy in the late 60's, when the dominant socialist realism pushed any gifted young artist toward the avant-garde of the beginning of the century, Russian or European. It was not up to everyone that modernism was their past and new strategies were needed – especially, when there were no companions on the way. The legacy of modernism taught that the artistic system was autonomous, and the author's gesture was primary. The artist's work directly affects the reality, the context is created later. The photo freed the artist from the role of a copyist of life realities and opened free abstract form-building. Materialistic views and the desire to construct life gave birth to the concept of a picture-a «lattice» (described later by Rosalinda Krauss) or a matrix, superimposed on reality and changing it.
Ivan Chuikov's work, completely isolated at first, exactly began with the return to the classical understanding of the picture as a window to the world and the identification of such a phenomenon as stratification, filminess of the image given by the «window» – the lack of depth in it. The next important stage in the development of Chuikov's creative method is the transition to multiplicity, to the combination of different fragments («Romantic Seascape», 1992). The combination of heterogeneous fragments within the framework of one pictorial canvas accentuated the phenomenon of rupture – and thus there is a concept of multilayeredness on the site of the modernist lattice, a turnip whose body consists of scales alone without any nucleus. The logic of Chuikov's creative search clearly shows that postmodernism is not anti-modernism at all, that it is the development of the same logic of creating an independent space, but under new conditions.
At the turn of the 2000's the combination of fragments leads the artist to the theme of the labyrinth (in 2010, the Moscow Museum of Modern Art would host a personal exhibition by Ivan Chuikov «Labyrinths»). In the scrappy picture, the viewer is offered the role of a traveler through the body of culture, when his view is captured by a polygraphic snow plain, then a glossy lake, then hills of pastoral painting, and then, suddenly, the garden of wallpaper strips. Moreover, also semantic differences from high art to flat craft were also supposed. Travel – an important category of perception of creativity by Ivan Chuikov, and the artist helps us with exotic plots of his fragments.
In the «Landscape» 1998 the glance first rushes to the center, to the horizon, to the marvelous pre-dawn union of earth and water, and after, descending along the path of sunlight, falls on the edge of a very different image – on the petal of the printing rose. With some effort it is possible to distinguish the traditions of the interior of the 19th century in it, the Biedermeier wallpaper, the cozy bourgeois world that exploded with indignation from the landscapes of the «Salon of the outcast», calling them «impressionism». The whole historical conflict of the French scene 150 years ago is captured in the small work by Ivan Chuikov. But if, during the unraveling of these cross cultural indexes, we add self-irony, including yourself in the composition as an observer, you can imagine that from the side this «picture with the viewer» will be very reminiscent of a romantic wanderer from the paintings of Caspar David Friedrich , watching the sunset or sunrise through the heavy forest «portieres». V
Other works of the artist